Jungles and Beaches
6 days exploring staggering beautiful south central Vietnam
Jungles and Beaches
Vietnam
Off-road Sections
6 days/5 nights
Driver, Pillion, Jeep, Motorbike, Semi-auto Scooter
1230 km
Price: from 1,050 USD
6 days/5 nights – Join us on our run to the south! Dip our toes into the mountains and coast to the south of Hoi An and north central Vietnam and explore staggering beautiful south central Vietnam in 6 days.
highlights
Ethnic minority village experiences
Village walk
Old growth rain forest
Remote communities
Stunning coast line
Local cuisine
Tour Includes
Experienced English Speaking Guide
Village Walk, Traditional Cultural Performance
Driver, Motorbike, or Semi-Automatic Scooter
Personal, local licensed driver, if required (for pillion passengers)
Fuel
5 x Breakfast, 5 x Lunch, 5 x Dinner
Snacks
5 nights accommodation
Entry Fees and Ferry Crossings
Tour excludes
Alcohol
Minibar Drinks
Drinks (after travel time on the road / during dinner)
Laundry
Personal & Motorbike Insurance (for motorcycle accident)
Personal Expenses/Tips
Damages to Motorcycle or Tour Equipment
DAY 1: HOI AN TO BHO HOONG VILLAGE
(110km)
Our intrepid adventure begins with a rustic ride into the heart of ethnic minority country.
With the wind in your hair, we zip through the Hoi An countryside, making our way up into the hills towards the Laos border. Home to the Co Tu minority, we take a break to visit one of the few remaining Co Tu woodcarvers and enjoy a home cooked lunch in his stilted house before continuing our journey deep in to the mountains.
We'll arrive at Bho Hoong, a traditional Co Tu village where we will stay for the night. Little has changed in the past hundred years in Bho Hoong and it is the perfect place to relax and enjoy the natural beauty of Central Vietnam. The evening is highlighted by a superb dinner of Co Tu traditional dishes, a traditional performance and a chance to interact with the villagers. Afterwards, retreat to your stilted Co Tu bungalow where the serene setting and clear mountain air will lull you to sleep.
(Accommodation: ***Bungalow)
(Meals: Lunch, Dinner)
DAY 2: BHO HOONG TO KHAM DUC
(150 km)
Ride the Ho Chi Minh Highway all day – we will explore other ethnic minority villages before hitting the road bound for the infamous town of Kham Duc. The scene of a significant battle between the United States and the North Vietnamese during the war; a landing strip can still be found here. These days it is used by the local people to dry their cassava. Kham Duc is surrounded by mountains and the riding is amazing.
(Accommodation: Local ***Hotel)
(Meals: Breakfast, Lunch, Dinner)
DAY 3: KHAM DUC TO KONTUM
(220 km)
Simply stunning is the only way to describe today, riding along the highest stepped rice paddies outside of Sapa and reach as high as 2,000 metres above sea level. The view at the top of this pass is incredible. If you like switchbacks, today is the day for you. Kontum is a highland ethnic minority town with a vibrant market, rich with character, colonial buildings, lively night life and fantastic food. After a local dinner we can enjoy the people watch sitting on the promenade alongside the Dak Bla river.
(Accommodation: *** Hotel)
(Meals: Breakfast, Lunch, Dinner)
DAY 4: KON TOM TO TUY HOA
(320 km)
Today we are coast bound. Take in the stunning scenery across the mountains before arriving at the Coastal town of Tuy Hoa, the capital of Phu Yen. Today we will cover some remote sections not traveled by many tourists, so it could be full of surprises!
(Accommodation: *** Hotel)
(Meals: Breakfast, Lunch, Dinner)
DAY 5: TUY HOA TO QUANG NGAI
(290 km)
First thing today we will head 40kms north to Ganh Da Dia to see Vietnam's own "Giants Causeway". They are unique and rare basalt formations similar to those found in Northern Ireland. The formation is rarely visited by tourists and will be a highlight of our ride up the Coast today. Tonight we will rest our heads about 80kms south of Quang Ngai.
(Accommodation: *** Hotel)
(Meals: Breakfast, Lunch, Dinner)
DAY 6: QUANG NGAI TO HOI AN
(140 km)
Today we will spend most of the day on the coast on our way back to Hoi An. Our trip back to Hoi An is a full coast run. We will start the day visiting the site of the infamous My Lai massacre. To do this it means putting the bikes on ferries, passing through fishing villages and if the tide is right, why not go for a ride on the beach? Arriving in Hoi An we will enjoy a celebratory beer or 2 and savour the moment we were all "the first" the chart the newest Hoi An Motorbike Adventures southern tour. No doubt there will be some stories to tell!
(Meals: Breakfast, Lunch)
Pricing
3,920,000 VND (175 USD) per day per person. (3-4 star accommodation)
– You can either ride yourself or sit on the back with one of our experienced drivers or go as passenger in a Jeep.
If there are two of you, it's only 3,360,000 VND (150 USD) per day for the pillion passenger, if you share one bike.
– Flexible rates on larger groups.
have a question?
The crew at Hoi An Motorbike Adventures are passionate about giving you the best service and experience. If you have any questions about our tours and services or if you would like us to send you some more information, please fill out the form below and we will reply to you as soon as possible. Please note that persons without a valid motorcycle license or under 18 years of age must ride as a pillion.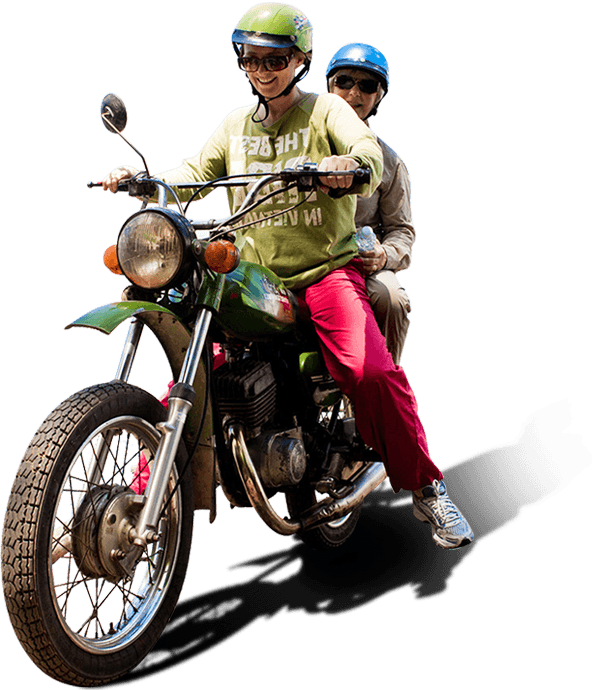 more Multi-day adventures